What is SEO?
SEO is short for Search Engine Optimisation (Google is a search engine, as is Bing and Yahoo etc).
For us, SEO is like a complex jigsaw puzzle. There are many pieces that each fit together to give website visitors, and importantly search engines like Google, a view of what your business is about. If missing completely, or only partially completed then Google won't know what your website is about and consequently will rank you poorly or not even rank you at all!
So, good SEO is critical for any local business in Derby, Burton on Trent or the Midlands, if you are to compete with other local business or large companies. What does this really mean and how can Expert SEO services help your business to grow?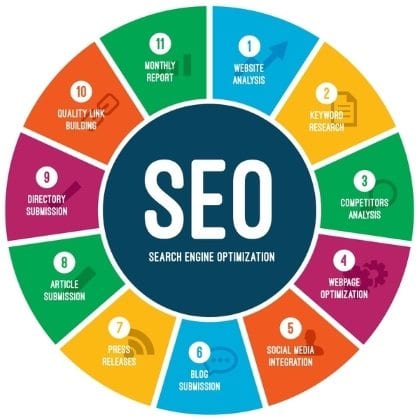 Affordable SEO Built In
How much does SEO cost? It really is open ended. The best SEO will cost you many of £1,000s. Where does Open Formula sit? Somewhere in the middle!
We recognise that small and local business simply don't have the budget of the nationals or large well funded companies. But that doesn't stop us getting your website ranked extremely well. In fact we haven't yet failed to get a clients website onto page of Google. It's all about value for money.
By building your website with SEO in mind, from the start, we build strong SEO foundations from the outset. We can then tailor that to your needs and include other pieces of the jigsaw as required and to suit your budget.
Our SEO includes…
Quality SEO built into your website structure, metadata & page content. The foundation for high Google page ranking.

Create & configure webmaster accounts to tune your website with search engines

Google+ and Google Places listings

Social media account creation such as Facebook, Twitter, Instagram, Pinterest etc

Social media integration with your website for live feeds

Local & national business directory listings for quality link building

Continued analysis for ongoing performance & optimisation

Fast website hosting & backend settings optimisation (cPanel / gZip etc)
"My existing Website Isn't Being Found on Google… Help!"
This is a common reason why local business people come to Open Formula for Google page rank help.
They have paid for a beautiful website or built their own. However, many web companies just design websites, not SEO, or people use web building companies such as 1&1 or GoDaddy without realising the SEO requirements.
We don't mind. In fact we relish the opportunity to help try and get you get your website to page one of Google. It is so satisfying when a client calls you to say they have had their first customer as a result of the work we have done!
Contact Us today to see how we can help your business grow through good SEO!
Our SEO Services
Our Key Skills:
WordPress Websites

Avada / Yoast SEO Support

Fast Configured Web Hosting

Managed WordPress Hosting
We also can provide SEO help for:
Joomla Websites

WiX Self Build

Yola Self Build
All Our Website Design Customers Enjoy Great SEO.
Here is a small list of our SEO Only Clients that are growing as a result of our Expert SEO Services for Derby & Burton on Trent Customers.
Pick Me Locksmiths, MLA Approved locksmith in Derby
Locksmith Solihull
Locksmith Sutton Coldfield
Locksmith Lichfield
Locksmith Tamworth
Locksmith Billingham
Health and Safety Consultant in Derby
Absolute Locks
Warrior Locksmiths
Plushfit Property Services
Baileys Roofing
Locksmith Ayr
Locksmith Kilmarnock
Locksmith in Leeds
Architect Derby
Architect Sutton Coldfield
MyVO – Accountant Kilmarnock
Locksmith Bristol
We only work with trusted people and companies and will be launching a new service later in 2022 to help consumers and companies find a local trusted trades person. This directory will also be a useful SEO link for our clients.